�?.Же.Е�?-София
Управител: Georgi Zlatarev
441 Boulevard "Botevgradsko Shose" Sofia 1839
Вашата фирма за преместване на лично имущество
"А.Же.Ес-София" е вашия партньор в международните премествания , предлагащ персонализирани и иновативни услуги, свързани с премествания и складиране на лични вещи за индивидуални и бизнес клиенти. Опитът ,който служителите на А.Же.Ес –България притежават ,е гаранция за професионално и безпроблемно преместване на лично имущество, независимо към коя точка на света.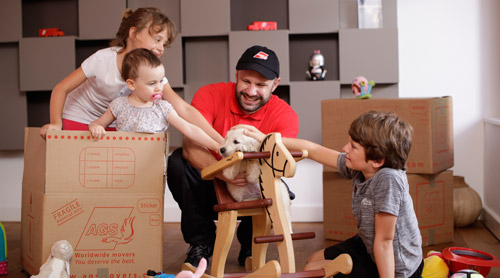 Създадена през 1998 г. , фирма А.ЖЕ.Ес-София притежава 25 – годишен опит в преместванията на лични вещи
Като част най-голямата компания за премествания , А.Же.Ес-София има предимството да е част от мрежа от филиали в 146 града /97 страни в света / с огромен международен опит.
А.Же.Ес-София, България е гаранция за професионализъм и най-високо качество на услугите по преместване и складиране
Получете безплатна оферта
Domestic & International Removals Solutions
AGS International Movers offers excellence to each of its clients.
Повече за А.Же.Ес-София

418 кв.метра складови площИ
---
---
Quality Standards
Сертификати и членство
А.Же.Ес-София е гарант за най-високо качество на услугите . За повече от 40 години , А.Же.Ес Групата налага на своята международна мрежа от филиали строги процедури по качество на предлаганите услуги.Тези практики произтичат както от общити стандарти за качество , така и от стандартите , дефинирани от най-престижните международни сертифицирания.
Тези стандарти осигуряват високото качество на предлаганите услуги , независимо дали са от или за София .